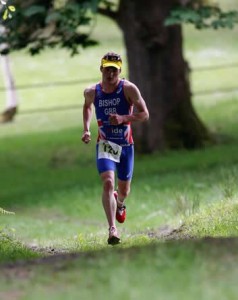 Name: David Bishop
From: Derby
Favourite Discipline: Running
Favourite Race:
International race: Holten European Cup (Great course, great after party!)
UK race: National Club Relays (Great atmosphere, fun racing!)
Best result: 2nd London Triathlon 2014
Profile:  I started competing in triathlon when I was about 12 years old, I have swam since I was a young age and my parents were good runners so it was a progression from there. I just competed for fun between tristar and youth, but started taking it a little more serious from Junior level onwards. Since then I have studied at Loughborough University where I became involved in the squads based there. I have competed for Great Britain from Junior through to Senior level and now I spend my time training full time between Loughborough and Derby and working at Bespoke Cycles Derby, trying to make my way in triathlon. Oh and I have a twin too – He is also a triathlete, a pretty good one too!