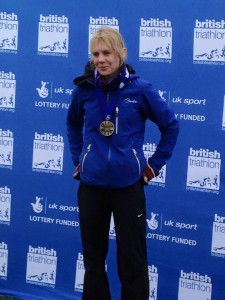 Name: Claire Pickersgill
From: Wakefield
Favourite Discipline: Running
Favourite Race: Clumber Park Duathlon (especially 2015), Southport Sprint Triathlon
Best result: Clumber Park Duathlon 2015, 1st in Age Category at the British Champs
Profile:
I started triathlon in 2011 and entered the Scissett Sprint Triathlon with only trainers to use on the bike and came in as 2nd lady!  Coming from good stock (my dad holds a marathon time of 2:16 and uncle 1:07 at the half marathon distance), running is my favourite discipline but I balance all three disciplines of swimming, biking and running well.  I love training, I just want to go faster!  This year I will be taking part at the ETU Sprint Championships in Geneva and I have already qualified for the Worlds Standard Duathlon Championships 2015 and European Standard Duathlon Championships 2016. Next year I would like to venture into the longer distance of middle distance races and perhaps into the world of time trial bikes!