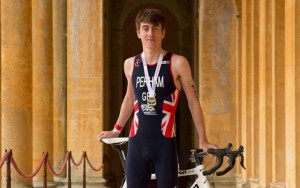 Name: Chris Perham
From: Portland, Dorset; train in Loughborough
Favourite Discipline: Swimming
Favourite Race: u23/Junior mixed relay World Champs (Edmonton) and Blenheim Palace Triathlon
Best result: 15th Tizivarous World Cup 2015 and Blenheim Palace Triathlon Winner 2015
Profile:
I started my sporting career swimming for Tornadoes of South Dorset and compete in Biathlon and Biathle (run-swim-run) events for Dorset Pentathletes. When I was 16 I progressed into triathlon and competed in the British youth and junior super series which I went on to win in 2013 aged 18. After this I moved to Loughborough university to study sports science and train with the Triathlon Performance Centre. Competing for GB for the first time as a junior in 2014 and then again last year as a first year u23. I'm looking forward to more progression in 2016 with targets of European and World u23 medals.