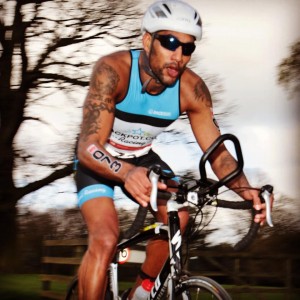 Name: China Clark
From: Leeds
Favourite Discipline: Boxing, Time Trialing and Duathlons
Favourite Race: Being new to Multi-sport I've not really got one yet
Best result: Coming 11th overall in my first duathlon at Helwithbridge in October 2013.
Profile:
I'm a professional boxer, having fought on Sky Sports on two occasions at Wembley Arena and The Leeds Arena. My highest accolade as a boxer was winning the English Cruiserweight Title.
My initial reason for getting into multi-sport was simply to improve my overall fitness, but I'm a glutton for punishment, and really enjoy it. 2014 is my first full year as a triathlete. I am still making schoolboy errors like missing a turning on a 50 mile TT, so had to do 70 miles instead, however my Garmin recorded a reasonable time for my first 50TT at 2:4:43, and also having sighting issues in the open water, totally swimming in the wrong direction.
I was introduced to Parkrun by fellow teammate Ady Stott mid-2013, and surprisingly came first on my first ever one. I'm a decent runner for a guy who walks around at 93kg. There are a lot of improvements to be made in all disciplines, but I'm naturally a strong athlete, and have that fighting nature, and determination multi-sport requires.