Having not donned the race belt for 18 months, it was nice to get back into action in Liuzhou, China for their first time hosting this 70.3 distance event.
My excitement was quickly shunned when I arrived the day before to bad weather, traffic all over the road making a spin out on the wheel's nigh on impossible and pollution clouding the air.
But all impressions were quickly dispelled come race day as the there were clear skies, sun shining, clean, fast, flat roads, beautiful scenery and very good organisation, including 5000 police / officials that lined the whole of the bike course. Yes…. five thousand!
Not for the life of me was my swim as fast as it suggests (21 minutes). It was a very very chilly (15 degrees) river swim from A-B from a self seeding swim start with a current very much in our favour. But 3rd in my AG and 13th overall at this stage.
T1 was probably the toughest part of the day, out of the cold water and straight into 74 brutal steps towards a long transition, and when the feet are close to frozen, this wasn't easy.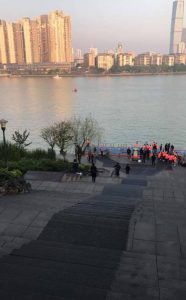 A relatively smooth transition, after the stair climb, and onto the two loop bike course. The roads were wide, flat, and with the split recorded (2.19) ….very fast. The legs didn't feel amazing but I was super happy at this stage with the overall time.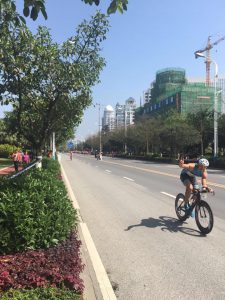 I came off the bike in 4th in my age group to start a run that wasn't as flat as I thought with many false flats either up or down. I could tell from km 1 that the legs just weren't there and for some reason the back was wanting to tighten up as well and by 7km I found myself walking slowly through the aid station to try and relieve the stiffness. I cracked on again battling thoughts of a potential DNF… I couldn't have accepted that, so I got my legs going and eventually it started to ease and I found a little bit of rhythm, to finish the run in 1.33 and cross the finish line with a time of 4.20, 6th place in my age group and 43rd overall.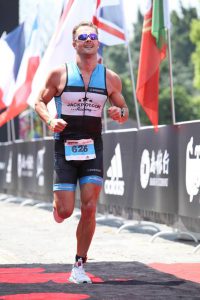 A slight bit of disappointment over my run performance but despite that, super happy with the time and an offer of a 70.3 World Championship slot in Tennessee ,USA in September. Sadly I didn't accept due to work commitments but may shoot for it again next year in South Africa.
Onto the next one…. Vietnam 70.3 in May.